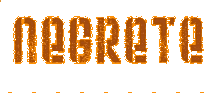 Check It!
Welcome you good, good people to Negrete ('Ni-gre-tay'). We are a London based, but much travelled, independent clothing label.
Check out our f f fresh clothing in The Goods. Find out about who we are in the Love section. Check out who is Down With Us. Have a glance at what Negrete thinks in Thoughts, and get in touch via Contact. Good luck. One Love. Bless your days!
Negrete Big Blog News
This is how we do…
Come get some Radiohead & Hip Hop Mash!
Hip Hop is the Best…
Negrete is down with the yoots dem…
Free Postage to Anywhere* in the world!!
Everyone loves free stuff…
New Designs – Oh My Gosh!
The best deejays pon de scene…
Negrete inside Carmen Electra
The Last Skeptik vs Negrete – Gangsta Catalogue Posing
Mash Potato & Industrial Language
Asaviour Represents in Disturbance Tee..have a skeg
If you don't enjoy this, then you're not Negrete's sort of person…
Negrete brain illness! 7 day sale now on
A Happy New Year to all Brothers and Sisters…
Mike Yarwood of Hip Hop! Check it!
Remember..Remember, its shit in November…
Join us on MySpace, and win random free stuff!
Naughty Alla Dee Shay
You really have to watch this, its funny as f*ck..
Come join Negrete on MySpace!
this jok isn't funny anymore…
Talking Dogs…no messing…
Its too hot, stop being so hot…
Wipe away those dirty tears…
We Got Your Back

Cult Classic, not bestseller…Negrete are men of the people…
Keep your friends close, but your enemies closer. Well, friend or foe, why not come and join us in the battle against boredom in this mental online world of gambling and filth. Be our mate on MySpace and come talk to us like a long lost friend!
Remember each tee is made using Sweatshop Free Cotton and each order comes with a super personalised slice of negrete madness on your compliment slip, sweets, badges, stickers and shite (not literally). All this with FREE SHIPPING WORLDWIDE! Oh my gosh, that's sweet!
Newsletter
Get the latest news, fresh clothing and mind rot shoved in your inbox every month. Just put your email address in the box below and send that sucker…
Send
We promise…no spam or any of that malarkey.
---
FREE SHIPPING TO VIRTUALLY ANYWHERE IN THE WORLD
---
The Goods