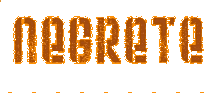 Terms and Conditions
This section states the terms and conditions under which you use the negrete.co.uk website. Any use of this website means that you agree to them. Simple as that. If you don't agree with these terms and conditions then you are not authorised to use this site, and you better leave. Cheers.
Returns and Refunds
We love the clothing we make. We want you to love it too. So if anything you buy doesn't fit right, or just isn't what you expected, just send it back and we will gladly either issue you a refund or offer an exchange.
You can return any product within 14 days of receipt. You must inform Negrete about this within the 14 day time limit. Please make sure to include your order number and/or invoice in all correspondence with us, both in email and in packages.
Unfortunately we cannot issue a refund for goods that have noticeably been worn, washed, ironed, tumble dried or used. All goods to be returned must be in their original condition, and must be unused and unwashed.
No exchanges or refunds will be issued until the goods have been received by us. We will issue a refund (minus the cost of delivery) on receipt of goods. Refunds will only be made to the credit or debit card on which the purchase was made.
Every item we sell is carefully inspected before it is shipped. If the item is faulty we will reimburse you for the cost of shipping the item back to us. Please contact us before returning any faulty items. Please note we are only able to refund your return shipping costs if you received a wrong item or the item is faulty. Otherwise any costs incurred in returning the item are the responsibility of the customer.
The goods are your responsibility until they reach us. For your own protection, we recommend that you send the parcel using a service that insures you for the value of the goods. Negrete recommends using recorded delivery for lower value items (up to £28 insurance), or special delivery for higher value items (up to £250 insurance). Please obtain proof of postage when returning a parcel as we cannot be held responsible for returned items lost in the post. Under no circumstances will we accept returns on any item purchased more than 4 weeks earlier, regardless of reason.
When returning goods please include all original packing and tags, your invoice, and a covering note saying who you are, why you are returning, and whether you want a refund or an exchange. Please send all of this to:
Negrete.co.uk
Firebox House
Ardwell Rd
Streatham
London
SW2 4RT
Delivery
Negrete.co.uk is open Monday-Friday from 10:00am – 6:00pm GMT. We aim to process and post orders within 1 to 3 working days. All weekend purchases are processed on the following Monday (excluding bank holidays). We will despatch orders via Royal Mail or a secure courier service. You may need to sign for receipt of your goods, so we advise having orders sent to an address where someone is there all day, e.g a work address. If this cannot be arranged, then Royal Mail should leave instructions on how to pick up your parcel from them.
Most orders will have delivery attempted within 1 – 2 working days from posting, but please allow 7 working days before contacting us about a possible missing delivery! In rare cases, packages can get lost in the mail. Don't worry, if your package is lost, we will replace it for you at no extra charge. However if the delivery tracking indicates that your package has been delivered to you, we cannot be held responsible for a package that is claimed to have never been received.
Postage and Packing Prices
Shipping is FREE all over the world! Well, most places in mainland Europe and the USA. Anywhere else might cost a little extra, but lets talk about it!
International orders are shipped using Air Mail, which normally takes about 1-2 weeks, but also depends largely on the destination country's postal service.
Please remember that international orders are subject to being charged customs fees by the destination country's government. We have no control over how much you are charged for by customs and the fees are completely independent of Negrete. Please understand that we cannot be held responsible for any additional charges the destination country imposes on you.
Please note that both charges and refunds are in UK pounds sterling and negrete.co.uk cannot be held responsible for any loss due to exchange rate fluctuations.
General
PLEASE CHECK YOUR SIZING CAREFULLY WHEN ORDERING. Our size chart provides details of the size of our garments. Generally speaking our t-shirts are slightly 'fitted' rather than baggy or shapeless! If you are returning your purchase because you have ordered the wrong size, you will be expected to cover the cost of returning it for an exchange.
Negrete cannot be held responsible for any damage to products where the correct washing instructions have not been followed.
Some goods are non returnable for hygiene reasons. These goods are clearly marked with an 'H' next to the product name and on your invoice.
Our website contains links to other websites which are not under the control of, and are not maintained by, us. These links are provided for your convenience only and we are not held responsible for the content of these sites.
Negrete will provide its services with reasonable skill and care but does not give any guarantees, warranties or representations in respect of any other person's services.
Negrete shall have no liability to pay money by way of compensation for any kind of loss or damage due to viruses or other malicious software that may infect a user's computer equipment, software, data or other property resulting from a users access to, use of or downloading from negrete.co.uk, or from transmissions via emails or attachments received from Negrete or its licensees or affiliates.
Negrete may change or withdraw any part of negrete.co.uk, or may refuse you access to the website at any time if we consider it necessary.
Negrete will use all reasonable endeavours to ensure that the website does not have any problems and that the goods displayed are available. However it cannot guarantee the availability of the website or that any goods on the site are in stock or available.
Negrete may cancel any sale and not supply products if it is reasonable to do so and may change or discontinue the availability of products at any time at its sole discretion. If an order is cancelled, any payment made for the products will be refunded in full. This does not affect your statutory rights.
All offers are available while stocks last. If we are unable to supply a product you have ordered, we will notify you as soon as we can after receiving your order. If this happens, you may cancel your order and we will refund you the money you have paid for it.
In order to improve our service and negrete.co.uk we may use a device known as a 'cookie'. Cookies are a means by which information relating to your internet activity (such as whether you have visited negrete.co.uk before) is recorded on your hard drive and used by us to improve negrete.co.uk and the products and services available to you.
If you do not wish for us to use cookies when you use negrete.co.uk please adjust your internet browser settings to not accept cookies. Your computer's help file should tell you how to do this.
The rights in the copy, photo's, designs and the content of this website are owned by Negrete. They are protected by copyright and other intellectual property rights. You may not copy, modify, reproduce, distribute or display any part of this website without our permission.
As the site is constantly changing we reserve the right to alter our prices, these terms, and conditions without notice.
We will try to make sure that all the information and prices on this site are correct. Occasionally we might trip up and make a mistake. This is because we employ humans, and we all know how reliable they are. We accept no responsibility for errors and omissions and we reserve the right to alter information and prices without prior notice.
Security and Privacy
Security is certainly one of the biggest concerns for both the customer and the retailer during an online transaction. In reality an online transaction is probably more secure than a card transaction in a shop or conducted over the phone, as the information transmitted online is highly encrypted using complicated logarithm combinations.
We take your security and privacy very seriously. Our site is completely secure and you should have no concerns with safety. All credit card information is transmitted over a secure connection, and we never hold or see directly any credit card details. Also, we have never or will ever sell or share any of the contact information you provide us. All of your personal information is guarded and will only be used to contact you in regards to your order. We will abide by the UK data protection act at all times.
We will not email you in the future unless you have expressly given us your consent. We will give you the chance to refuse any marketing email from us in the future. We collect information about you for two reasons. Firstly, to process your order and secondly to provide you with our best possible service.
We carry out address and card verification checks as part of our payment process. This helps authenticate that the person placing the transaction knows the true card holders address and is in possession of the card, reducing the risk of fraud. The verification of these details is unlikely to inconvenience you in your purchase, though we may occasionally place a call to customers for information over the telephone. These measures greatly reduce the risk of fraud from stolen card numbers.
If you sign up for our newsletter we can assure you that your email address will not be made available to anyone else. So there's no spam about lonely housewives and Viagra! You will receive a short, action packed newsletter every few weeks or so explaining the latest Negrete products, offers and thoughts.
Newsletter
Get the latest news, fresh clothing and mind rot shoved in your inbox every month. Just put your email address in the box below and send that sucker…
Send
We promise…no spam or any of that malarkey.
---
FREE SHIPPING TO VIRTUALLY ANYWHERE IN THE WORLD
---
The Goods