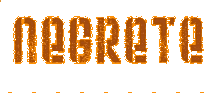 Negrete – 'Ni-gre-tay'.
Negrete isn't about just one thing. We're not about one place or one people. We are everything and anything. We're based in London, but we take our inspiration from everywhere. It's about looking good, feeling good, and doing what you like.
Everything we make is crafted and produced with love and detail, so it can be worn with pride.
Love & Friends
Check out some high res posing & collabo's from the good, the bad and the rest..







Newsletter
Get the latest news, fresh clothing and mind rot shoved in your inbox every month. Just put your email address in the box below and send that sucker…
Send
We promise…no spam or any of that malarkey.
---
FREE SHIPPING TO VIRTUALLY ANYWHERE IN THE WORLD
---
The Goods