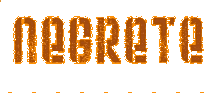 Everyone has thoughts. Some are dark, dirty, best kept to yourself. Others are full of love, funny, stroke of genius. We've all got our demons. We've all got our issues. This is where you'll find some of Negrete's…
Thoughts
Negrete thoughts…High fashion is rubbish. Poncing up and down the catwalk painted half blue in a crop top or in speedo's with a bowler hat and eye patch isn't cutting edge. It's just shit. Imagine meeting your mates down the boozer wearing this muck. You'd never live it down, and quite rightly so. It's ridiculous. 'Oh yeah we'll all be wearing that next Spring'. Fuck off. No, what you want is some quality designs, on quality materials, with a quality feel. Negrete sir? Yes please..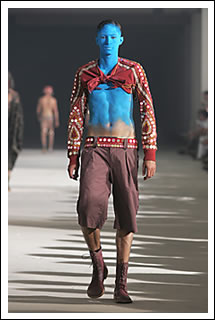 Negrete Loves…. being British. Our culture, music, women, shit weather, comedy. South American football, otters, mid 90's Hip Hop, swearing, Maradona, mucking about, sleeping, John Barnes rapping, Dogs, being out in the sun…
On the Negrete stereo… we have been listening to a load of…Mitchell Brothers, Yungun, 'White Album', 'Urban Hymns', Dizzee, Jay-Z, 'Guero', Grandaddy, Happy Mondays, The Devics, Dungeon Family, Roots Manuva, Queens of the Stone Age, Jehst, New Order, 'Definitely Maybe', 'The Tipping Point', old Kanye mix-tapes, Super Furry Animals, Doves, De La Soul, and The Stones.
Here at Negrete we have been consuming… animals, carbs, Asahi, Meatball Marinara, Brazilian beer, roasted sweet potato, a bit of blamo, bread with big nuts and seeds in it, crunchy peanut butter and flaming sambuca.
Here at Negrete, when we haven't been looking out of the window for the sunshine, we have been watching… Soprano's, Mighty Boosh, Family Guy, Scarface, Partridge, Star Wars Trilogy, Trainspotting, Ricky Gervais, Indiana Jones, City of God, Vic Reeves Big Night Out and even a bit of Sponge Bob Squarepants (for fucks sake).
Newsletter
Get the latest news, fresh clothing and mind rot shoved in your inbox every month. Just put your email address in the box below and send that sucker…
Send
We promise…no spam or any of that malarkey.
---
FREE SHIPPING TO VIRTUALLY ANYWHERE IN THE WORLD
---
The Goods